Urgent Dental Care
---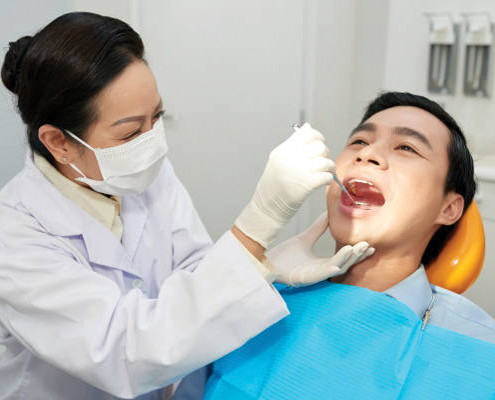 Visiting the dentist on a routine basis is vital for your health. However, if you knock out a tooth or have severe dental pain, you'll want to see the dentist sooner than later. Dental emergencies require prompt care to reduce pain and limit complications.
Reliable Emergency Dental Care in Fargo, ND
If you're searching for trusted emergency dental services in Fargo, ND, and the surrounding area, Melinda Harr Dental is here to help! We have several years of experience dealing with various types of dental emergencies. Furthermore, we have the tools and dependable dentists to remove the pain and fix the problem immediately.
Common Types of Dental Emergencies
It's important to understand what counts as a dental emergency. This allows you to act quickly when trouble strikes.
Take a look at the common types of dental emergencies below:
Broken or Chipped Tooth
Chipping or breaking a tooth is a dental problem that requires prompt attention. This issue usually happens when experiencing an injury or biting down on something too hard. Not only can a broken or chipped tooth change the appearance of your smile, but it can also cause pain.
Avulsed Tooth – knocked out by trauma. If tooth becomes dislodged it's important to carefully place back in the socket *if it is a permanent tooth*
Bad Toothache
While a minor toothache from time to time is no reason to worry, a severe one is a dental emergency you shouldn't ignore. This issue can mean you have an underlying problem, such as an infection, that needs urgent attention. If you have a toothache that doesn't go away or gets worse, apply a cold compress on the cheek closest to your painful tooth and call an emergency dentist immediately.
Lost Crown or Filling
Crowns and fillings are common dental devices used to protect or replace teeth. When one of these falls out, this is considered an oral health emergency. If you can find the crown, place it in a reclosable bag and bring it to your emergency dental visit.
Dental Abscess
A dental abscess is a sign of an infection. If not treated promptly, the condition will only get worse, possibly leading to tooth loss and other complications. If you notice a bump on your gums resembling a pimple, call your dentist immediately to schedule an appointment.
Dealing with one of the problems listed above? If so, call Melinda Harr Dental today for Fargo, ND's leading emergency dental care!
Sources
www.bloorwestsmiles.com