Removable Aligners / Night Guards
---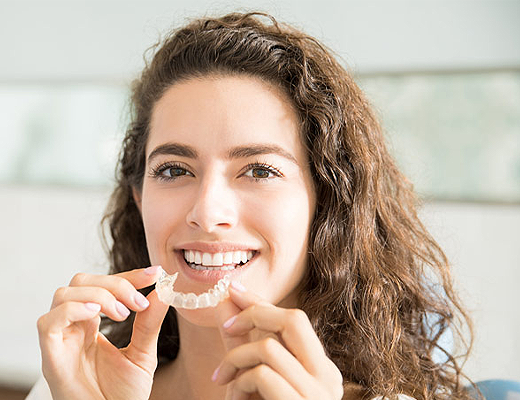 Start your journey to a straighter smile using removable braces and aligners. Melinda Harr Dental in Fargo, ND, also offers night guards for patients of all ages. Learn more about these products to see if they fit your dental needs.
About Removable Aligners
A removable aligner provides gentle but effective orthodontic treatment. This mouthpiece is designed using an imprint of your teeth. You wear an aligner in your mouth on either the top and/or bottom teeth. Generally, the aligner covers all teeth, but partial aligners might be in line for your needs.
When Do I Wear Clear Braces
Typically, patients wear aligners, also called clear braces or Invisalign, all the time for maximum results. As your treatment progresses, you may be a candidate for a new removable aligner to help your teeth stay in the correct position.
How Are Night Guards Used?
A night guard is a type of removable mouthpiece. Like a removable aligner, a night guard from the dentist will be made from a personalized dental mold of the patient's teeth. The plastic guards resulting from the mold perfectly fit the person's teeth and mouth with minimal discomfort.
Each night, the patient wears the night guard. The night guard consists of one or two pieces for the top and/or bottom of the mouth. The purpose of the night guard is to reduce grinding or bruxism in the jaw, which shifts and/or removes the surface of the teeth.
Do Night Guards Straighten Teeth?
Night guards are not made to change how the teeth line up, as with clear braces. However, by wearing a night guard, patients can reduce shifting teeth and impact resulting from grinding their teeth at night. This can be a good option for patients who formerly wore braces and need to retain their proper teeth placement.
Request Removable Aligners in Fargo, ND
At Melinda Harr Dental, we specialize in dental equipment and devices, including removable aligners and night guards. Consult with Dr. Harr and find out what the process is for getting these cosmetic dentistry devices. Call our office at 701-271-1060 to set up an appointment with Dr. Harr. We are open five days a week for appointments.