Same Day Crowns
---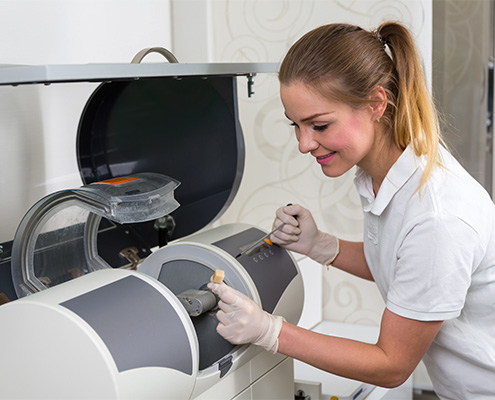 Crowns are a popular type of dental restoration used to preserve a tooth weakened by severe decay or breakage. Dr. Melinda Harr may also recommend installing a dental crown for misshapen teeth or badly stained teeth.
Receiving a dental crown used to require two appointments. Patients would receive a temporary crown first and then return several weeks later to receive their permanent customized crown. As a patient of Dr. Harr, you no longer need to have a temporary crown placed or wait for your final restoration since she offers same-day crowns in Fargo, ND.
CEREC Makes Same-Day Crowns Possible
CEREC, which stands for Chairside Economical Restoration of Esthetic Ceramics, creates your new crown right in the office. The equipment utilizes computer-aided design (CAD) and computer-aided manufacturing (CAM) to design and create your crown in a single appointment. The entire process takes just a few hours.
Most patients with a worn, decayed, stained, or misshapen tooth qualify to receive a CEREC dental crown. If you're interested in a same-day crown, the first step is to schedule a consultation at Melinda Harr Dental. Dr. Harr will examine the damaged tooth to ensure that it still has enough strength and structure to support a crown.
What to Expect When Receiving a Same-Day Crown
Dr. Harr starts the process by numbing the tooth she will be working on and the gum tissue surrounding it. She then removes your damaged tooth structure and any decay present in the tooth.
Next, Dr. Harr takes a digital impression of your tooth with a small camera and uploads the image to a computer. A software program then creates a three-dimensional tooth made from ceramic materials within about 30 minutes.
Dr. Harr cleans and prepares your tooth after the milling machine finishes creating your new crown. She then places dental cement on the tooth, places the crown on top of it, and uses high-intensity light to set the crown firmly in place. The last step is to trim away excess materials and check your bite.
Getting a crown in a timely manner is critical to preserving your tooth. We welcome you to schedule an appointment to learn more about same-day crowns in Fargo, ND, today.
Sources
CEREC Crowns – Procedure, Costs, Pros & Cons (newmouth.com)